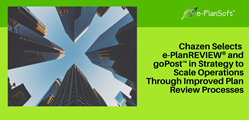 Chazen selects e-PlanREVIEW® and goPost ™ as part of strategy to scale operations through enhanced plan review processes
People are used to doing personal business online; everything from banking, insurance and shopping. Working with your local building should be just as easy and accessible and e-PlanSoft is the solution.
IRVINE, Calif. (PRWEB)
October 18, 2021
e-PlanSoft ™, developer and provider of industry-leading cloud-based electronic plan review solutions, today announced that Chazen, a LaBella company, has selected e-PlanREVIEW® and goPost ™ Public Portal (goPost) as solutions for reviewing and admitting plans.
Chazen chose e-PlanSoft solutions to equip its building code services department to more efficiently perform its intake and plan review processes. Cloud-based e-PlanREVIEW and goPost will offer improved organization, project management and transparency for easy project tracking and processing. The solutions will improve project communications internally and with applicants to create a faster and smoother process.
The company currently uses Bluebeam to perform an average of up to 1,500 plan reviews per year for several jurisdictions, including municipal construction departments and state agencies. However, the current solution does not connect email communication to specific projects and the Chazen team manually manages this part of their process.
With the transition to e-PlanSoft solutions, information and communications are captured, collected and disseminated via goPost. goPost allows candidates and reviewers to easily access and manage communications, without the need to manually attach external emails. The process results in cohesive, fully automated projects with streamlined workflows for maximum efficiency.
goPost will also allow Chazen to provide a personalized submission experience to each of its customers. goPost is the only public portal that allows a single license to be used at separate customer sites as individual portlets. The process of submission to the government agency is a flawless experience. The portlet will then route the documents directly to Chazen to begin the plan review process. All documents and communications are routed inside and remain with their corresponding project.
Chazen is growing and understood that he needed a software solution that would support his growth and improve the efficiency of his operations. The COVID pandemic has placed even greater emphasis on the need for a software solution to facilitate efficient workflows and notifications, as well as simultaneous collaboration from anywhere. The company had started to explore the possibility of developing a custom software package that would meet its needs. During its research phase, e-PlanREVIEW and goPost were presented to Chazen as an option. The company quickly recognized that the solutions matched their needs perfectly and were readily available, so implementation can take place in weeks, rather than years of developing a solution from scratch.
"People are used to doing personal business online; everything from banking, insurance and shopping. Working with your local building should be just as easy and accessible and e-PlanSoft is the solution, "says Robert Anic, Manager, Building Code and Life Safety Services at Chazen.
e-PlanREVIEW will further improve the company's plan review processes with its robust markup tools, automatic notifications, standard comment library and flexible viewing options, which will save time on each project and reduce approval time.
"We congratulate Chazen on his selection of e-PlanREVIEW and the public portal goPost," said Harrison Longhurst, regional sales manager at e-PlanSoft. "The company serves a wide range of organizations with a considerable volume of projects and is positioned to grow. Our products will serve as powerful tools to support the increased workload that will result from this expansion. "
About Chazen

Chazen, A LaBella Company is a multidisciplinary consulting firm providing services in civil engineering, surveying, landscape architecture, planning, environment and safety, building code, construction, transportation planning and traffic engineering to private and public sector clients. Our employees proudly collaborate with municipalities, state agencies, developers, landowners, utility companies and industrial, healthcare, education and non-profit clients from the design of the project. upon completion, adopting a personalized approach for each project. We deliver world-class performance focused on building effective, long-term partnerships with our clients.
About PlanSoft

e-PlanSoft ™ develops cloud-based electronic document review software that helps government agencies, construction and manufacturing industries, developers and owners manage real-time plan review, review design, product review, construction and asset review. . http://www.eplansoft.com

Share the article on social media or by email: