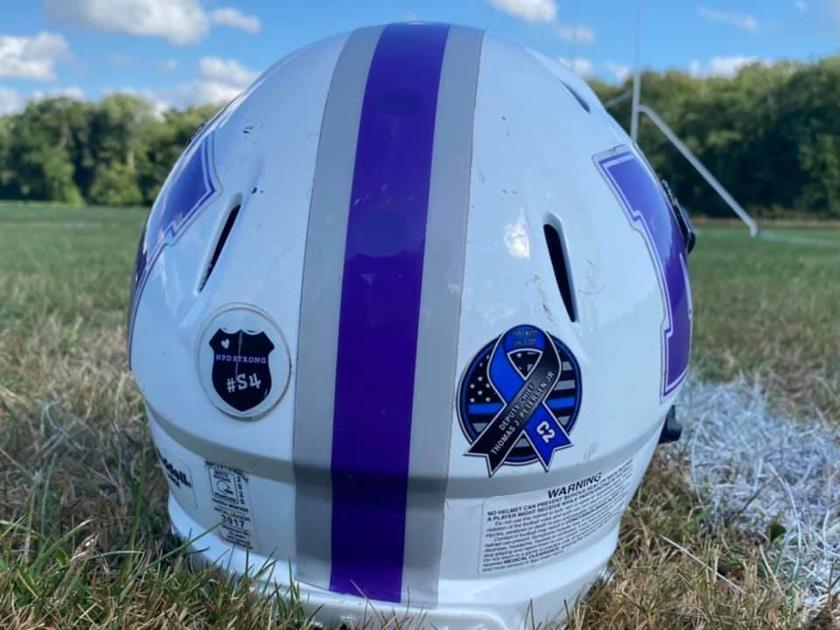 Norton to honor two police officers who died in Friday night football game | Local News
NORTON – The loss of two local police officers this year, Deputy Chief Thomas Petersen and Detective Sgt. Stephen Desfosses, left a deep mark on the city, and efforts are underway to honor their heritage.
This Friday night, the Norton High School football game is dedicated to the life and families of Petersen and Desfosses.
In addition, a charitable foundation was established in Petersen's name by a group of his family, supporters, colleagues and friends.
"We just brought the C2 Foundation to life this weekend and we look forward to supporting the Norton community in Tommy's memory with many events and generosity," said his wife, Michelle Petersen. "Our hope is to keep his legacy of service and commitment alive."
The name of the foundation comes from C2 being Petersen's police telephone number.
Norton football will greet Petersen and Desfosses with a tribute to the game, and the press box overlooking the football field is expected to be dedicated to Petersen, who was the team's assistant coach. The coaches' perch is above the press box.
"Tommy loved nothing more than coaching Norton High School for an incredible 10 years," his wife said. "They expect hundreds of his former players to come to the game."
Petersen has remained involved with the team after being promoted to the city's first deputy chief of police a year ago.
In September, the team honored Petersen, who died in July of a sudden illness, by wearing a C2 sticker on their helmets.
"He not only bled blue, but he bled purple for the Lancer," Police Chief Brian Clark said. "He loved the football team.
The team already had S4 decals on their helmets from last season in honor of Desfosses, who headed the police department's detective division and who died of COVID-19 in January.
Both officers played on the team in high school, and Petersen went on to coach his sons Matt and Nick.
Petersen also coached Norton Pop Warner for about 10 years and served as program vice president.
"We are honored that the 1st and 10th Norton Football Boosters and Coach Artz and Norton Football honor both Stephen Desfosses and Tommy with helmet stickers and this special night," said Michelle Petersen.
Rob McCoy, a Norton High School teacher who previously trained with Petersen, contacted his family to get the foundations off the ground.
McCoy, said Petersen, "wanted to make sure no one forgets who Tommy was and what his core values ​​were."
A cornhole tournament and a golf tournament are planned by the foundation.
"We are also looking for sponsors to help the foundation meet the needs of the community in Norton," said Petersen. "The foundation also hopes to support scholarships and help with financial difficulties in the future. The Norton community, businesses, friends and family have been extremely generous and we look forward to helping others, as Tommy frequently would.