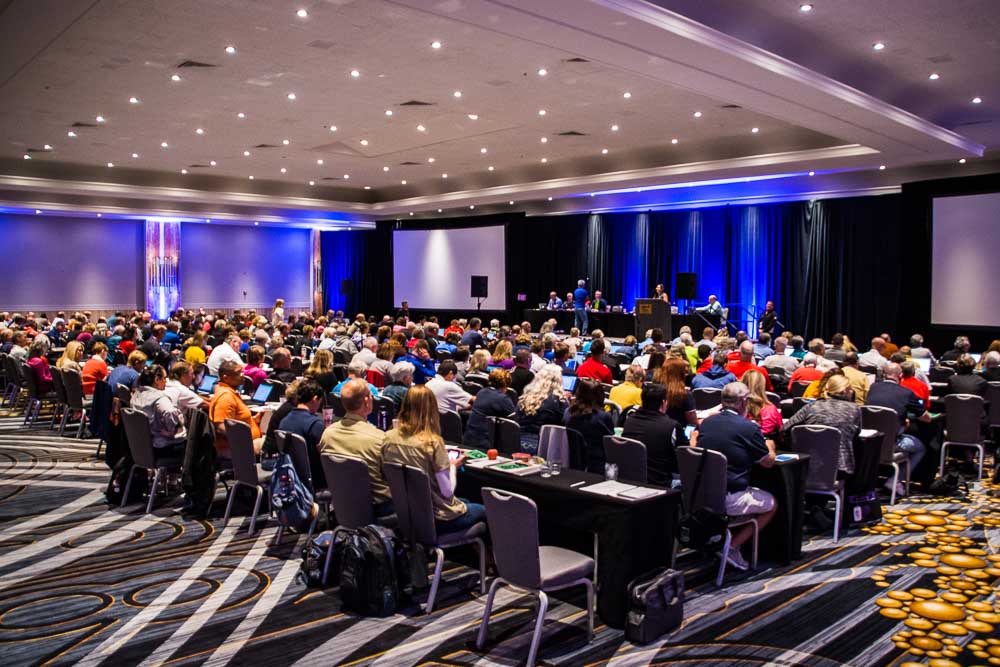 USMS elects officers and honors members at 2021 annual meeting
US Masters Swimming has elected officers to its board of directors and honored many of its deserving volunteers with service awards at its 2021 virtual annual meeting.
USMS is pleased to announce that the following officers have been re-elected: Pierre Guadagni (President), Chris Colburn (administrative vice-president), Chris Campbell (vice-president of community services), Ed Coates (vice president of local operations), Robin smith (vice-president of programs), Carrie Stolar (secretary), and Teddy Decker (treasurer).
The Capt. Ransom J. Arthur MD is awarded annually to the volunteer who embodies the spirit of Captain Ransom J. Arthur, the founding father of US Masters Swimming. In 1970, Arthur envisioned lifelong fitness and lifestyle benefits for adults through aquatic training and competition. Each year, the recipient of the Ransom J. Arthur Award has demonstrated outstanding commitment and dedication to the mission of the USMS. This year's recipient is Bob bruce (Oregon).
US Masters Swimming honors volunteers whose service stands out for its reach and impact with the US Masters Swimming Dorothy Donnelly Service Award. The recipients of this award have made significant contributions at the local, regional and national levels. The award is named after Dorothy Donnelly, one of the first USMS super volunteers. This year, the recipients are karlene denby (Gulf), Karen harris (Peaceful), Jenny hodges (South Dakota), Beth nymeyer (Minnesota), Kay turner (Niagara), carole pine (Peaceful), Carrow Hill (North Carolina), Nancy kryka (Florida), Adam larson (South Pacific), Tim timmons (Potomac Valley), Carl Millholland (Wisconsin), Chip Glidden (Missouri Valley), Catherine Rust (Florida Gold Coast), and Bill mccracken (Peaceful).
The US Masters Swimming June Krauser Communications Award is presented annually to an individual or group whose communications efforts have contributed to the growth, improvement or success of the US Masters Swimming. The award is named after June Krauser, the author of the first official USMS rulebook and a prolific writer and editor of numerous newsletters and other publications in the lifeguard world. This year's recipient is Michelle harter (Indiana).
The US Masters Swimming considers club development a priority and annually awards a local and regional club with the US Masters Swimming Club of the Year award. The lifeguard clubs that do the most to promote the values ​​and mission of America's lifeguards, not only in their communities, but nationally as well, are nominees for this award. This year's Local Club of the Year is The enthusiastic masters of Marcia of Oakland (Peaceful).
The United States Lifeguard Coaching Committee recognizes coaches who strengthen our membership in communities across the country. The Kerry O'Brien U.S. Masters Swimming Coaches Award is named in honor of Walnut Creek Masters Coach Kerry O'Brien, who epitomizes the passion, dedication and heart these coaches bring to the swimming pool. This year's recipients are Kiley ames (South Pacific), Donita flecker (Peaceful), Andy Seibt (Illinois), Paul Landes (Montana), and Celia Wolff (North Carolina).
The National Long Distance Championship Award is presented annually to an individual or group registered with the USMS who has made a significant contribution to the success and promotion of the USMS National Long Distance Championship events. These include the five ePostals and the six open water events. This year's recipient is Phyllis quinn (Peaceful).
The US Masters Swimming Open Water Service Award honors individuals who have made a significant contribution to the promotion and enhancement of excellence in USMS Open Water Swimming by embodying the mission, vision, goals and objectives from USMS through open water swimming; contributing including such as sitting on USMS national committees, open water or long distance LMSC chair, event or safety director, official, trainer, clinician or volunteer); notably contributes to different levels of the USMS (i.e. national, zone, LMSC and / or local); or demonstrates extraordinary measurable achievement and impact. This year's award goes to Robin smith (South Pacific) and Christie ciraulo (South Pacific).
The United States Masters Swimming Officials Award of Excellence is presented annually to a certified official in recognition of their outstanding and significant contributions to the United States Masters Swimming at the international, national, zone and / or local, including pool and open water competitions. The recipient is not required to be a member of the United States Lifeguards. A person can only receive this award once. The recipient can be a currently active public servant or a retired or deceased public servant. This year's award recipient goes posthumously to Ted haartz (New England).
Each year, the USMS honors a coach who embodies the highest standards in teacher training, including the growth and development of lifeguards with a holistic approach, which welcomes swimmers of all levels and abilities. This year's American Lifeguards Coach of the Year is Chris McPherson (South East).
Finally, the Ted Haartz US Masters Swimming Staff Appreciation Award is named in honor of Ted Haartz, a leader of the US Masters Swimming since 1970. Ted helped lay the foundation for the evolution of the USMS into an organization managed by professionals. The award celebrates our volunteer roots, as well as our future, in particular by recognizing one volunteer each year who demonstrates excellence in helping and supporting National Office staff in their professional duties of serving our members and promoting lifeguards. . This year's recipient is Kenny brisbin (South Pacific).